The objective of SDG 12 is to promote sustainable patterns of production and consumption. The goal focuses on efficient and responsible use of natural resources, reducing food waste, managing chemicals and waste responsibly, and encouraging sustainable practices by businesses. SDG 12 works furthermore towards a more environmentally friendly and efficient production and consumption of goods and resources.
Donau Soja Organisation
Raising awareness for sustainable consumption and production is fundamental to the work of Donau Soja. Donau Soja promotes sustainable development and responsible food consumption through its Protein Strategy for Europe (topics include efficient use of protein resources, healthier and more sustainable diets) and through Donau Soja organised events for members and the broader stakeholder community. In addition, Donau Soja participates in events and dialogue platforms to share knowledge and information about the role of legumes in our food system.
Donau Soja shares knowledge on sustainable soya bean production with farmers in the form of Best Practices Manual, Farmers Handbook and trainings (topics include integrated pest management, fertiliser management, waste management) to significantly reduce the adverse impact of soya bean cultivation on human health and the environment.
Donau Soja promotes more responsible soya sourcing practices by promoting the Donau Soja / Europe Soya Standard. Donau Soja further encourages companies to invest in sustainable soya production in Europe within the Protein Partnership Programme. As additional incentive to include responsibly sourced soya into their supply chains Donau Soja provides current sustainability information (e.g. LCA data on certified European soya beans) for companies to integrate into their sustainability reporting.
Donau Soja / Europe Soya Standard
Donau Soja contributes to SDG 12 through principles 4, 5, 6 and 7 as follows:
Donau Soja / Europe Soya Standards require responsible soil and nutrient management according to principle 4. This includes taking adequate measures to protect and improve soils and prevent erosion, a ban on burning stubble, the use of non-tillage techniques where possible, crop rotation and the use of cover crops. Integrated Pest Management principles and corresponding techniques should be implemented to avoid harm to soil, water and air quality, as stated by principles 5 and 6. Traceability and verification throughout the soya bean supply chain is established through external inspections in form of certificates. This guarantees comprehensive monitoring and confirmation of compliance of all participants.
To increase efficiency of other natural resources principle 7 demands to reduce, reuse and recycle waste where possible. The farmer shall manage and dispose of waste, including hazardous materials, agrochemicals, and their containers to avoid any risks to humans and the environment. Additionally, negative environmental and health impacts of phytosanitary products shall be reduced by implementing systematic, recognised Integrated Crop Management techniques.
SDG 12: Example activities
Donau Soja has shown a positive evolution in the production of certified soya volumes and physical projects within the last decade. During harvest 2022, over one million tonnes of Donau Soja / Europe Soya soya beans were produced by more than 9,000 farmers in 12 countries and certified at 200 collectors. This represents an increase of 48 percent in volumes compared to 2019 and corresponds to 10 percent of the total non-GM soya production in Europe. This secures the leading position of the Donau Soja / Europe Soya Standard in soya certification in Europe. As the European market has a demand of 40 million tonnes of soya per year and 11.5 million tonnes are produced in Europe, Donau Soja plans to expand sustainable soya cultivation in Europe by increasing its certified volumes to 1.5 million tonnes by 2025. The main sectors consuming Donau Soja and Europe Soya certified soya products in Europe in 2022 are agriculture (eggs, poultry, pork) and aquaculture, followed by plant-based food. Plant-based foods are becoming increasingly popular and have proven to be a promising future market for the Donau Soja Organisation.
Austrian Egg Market
Since 2013, Austrian egg sector changed to Donau Soja certfied feed. Practically all shell eggs sold through the Austrian food retail chains are fed with Donau Soja. Additional egg projects in Germany, Serbia and Switzerland are implemented on a local level.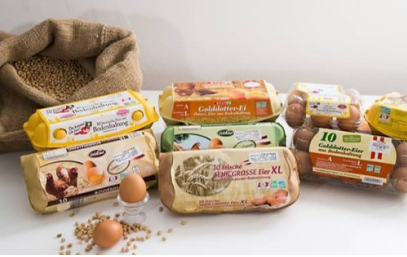 Plant-Based Market
Since 2019, a variety of traditional soya-based products such as tofu, but also innovative meat alternatives and vegan spreads, using certified Donau Soja / Europe Soya, have been developed and are available in 25 European countries.