Donau Soja tailored, in collaboration with the German company Evonik Industries, an exclusive and innovative offer for analysing grain legumes and legume feed products. It is also applicable for example for cereals or corn.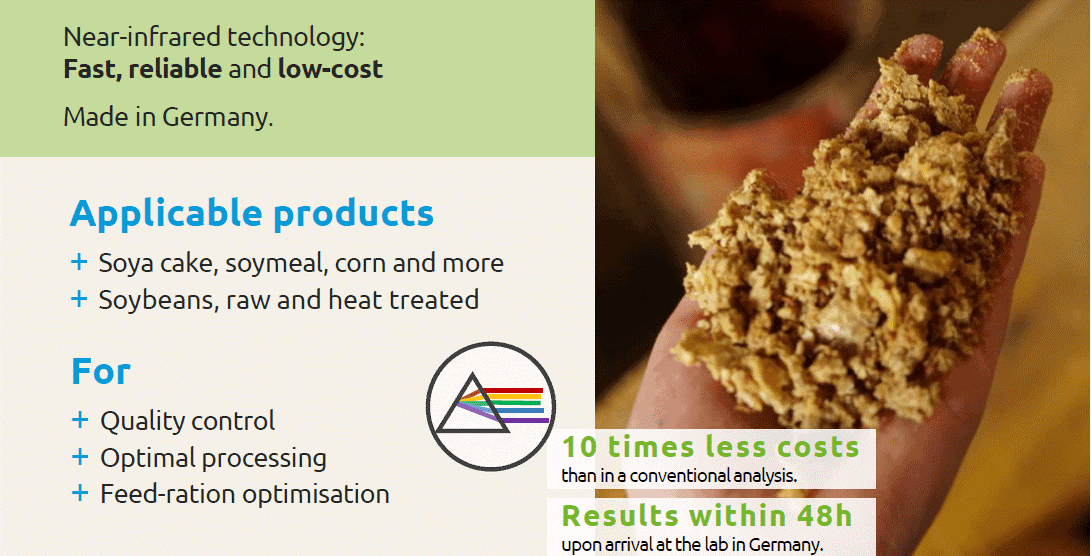 More transparency and information about your products
–
A detailed nutrient profile provides a foundation for the best use of soybeans and soya feed products. This is now made easier by latest developments in the area of near-infrared spectroscopy (NIRS). This technology is already widely used in agriculture, but this specific offer uses the latest calibrations of Evonik Industries and goes by that far beyond the possibilities of standard NIRS equipment. Now, it is possible to accurately measure beside the main nutrients (protein, fibre, engery and oil) also soybean processing indicators (TIA and protein solubility) as well as digestibility parameters for poultry and pig. The NIRS-analysis is also applicable for other feed-products, like corn, cereals or rapeseed.
Procedure and important points:
Contact the Donau Soja team.
Take a sample as representative as possible (approx. 200-300 grams).
Decide on an analysis offer and register the samples online.
Send these samples, according to the instructions of Donau Soja, labelled and well packed to the laboratory in Germany.